Medical Equipment 15PSI Water Air 12VDC ID 3mm OD 5mm Solenoid Pinch Valve
Medical Equipment 15PSI Water Air 12VDC ID 3mm OD 5mm Solenoid Pinch Valve
Solenoid pinch valve (referred to as pinch valve) is driven by solenoid coil, controlling the opening and closing through squeezing or releasing the flexible tubing. Only the easily replaceable tubing contacts with the fluid. This means that this pinch valve is ideal for those applications requiring frequent changes of the flow path. Compared with other types of solenoid valves, pinch valves are more economic and have no cross-contamination.
This series pinch valves are widely applied to Chemical industry, Food and Beverage, Medical and Environmental industry, for example in the areas of water, milk, juice and coffee dispensing, urine, biochemistry and blood analysis and waste emissions.
Features & Advantages of WK Series
1. Allowable voltage range (wider) ±7%;
2. Higher pressure bearing capacity (suitable for most fluid areas);
3. Valve position-limit device (no broken or stuck tubing after long time using);
4. Special matching tubing, ensuring best resilience and service life;
5. Stable and reliable performance;
6. Long service life (valve: >1 000 000 times);
7. Precision stroke and effective seal force to protect tubings and valves;
8. Good temperature resistance to temperature and chemical corrosion: valve body (PBT/PC alloy), valve stem (stainless steel);
9. Teflon coating on the wire surface.
About Tubing
•To ensure stable and durable performance, insert the tubing into the grooves when in use.
•
Silicone tube

(smooth inner wall and great memory, CE & FDA & RoHS certified).
•
Biochemical tubing (acid and alkaline solvents resistant).
Operating Voltage and Pressure
We accept customization of products to suit your requirements.
Specification (WK-01 series, NC pinch valves)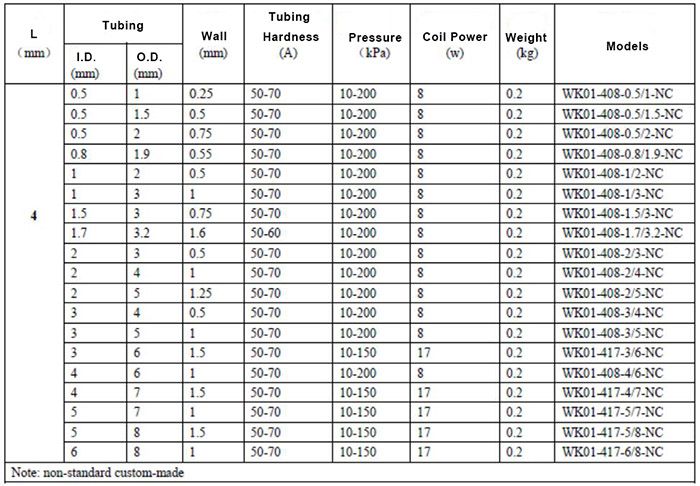 Photos & Installation


Voltage: DC 12V or DC 24V
Installation: Installed from side or bottom the M3 threaded holes
Silicone tubing: we'll supply suitable tubing together as samples for your test.